Featured Offer
Holiday Events at Gallagher's Canyon
Book now!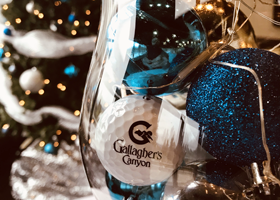 More Details
Tournaments & Golf Events
Start your planning at Gallagher's for your Kelowna Golf Event or Tournament
Discover why Gallagher's Canyon is a top-rated golf destination when you book a tournament with us. Our tournament packages deliver top-notch golfing with the beauty, service, quality and value expected of a GolfBC venue. Our facilities can accommodate groups of 24 to 150 golfers, with a full service Golf Shop and practice facilities. At the end of the day, unwind with a post-tournament reception in the scenic dining room, or sit down to a fully-catered banquet prepared by our Executive Chef and culinary team.
Tournament Information
Contact
"My group of 24 golfers had the pleasure of playing at {Gallagher's Canyon in August of 2015}. This was the second round of our 33rd annual four day tournament and I wanted to make sure you were aware of the wonderful job {the} staff did for our group. From Doug, the starter, to the pro shop staff, to the players assistants, everything was handled professionally and with ease. The course was impressive and the group really enjoyed themselves. We even had a few deer out on the course and a couple of huge black bears down in the Canyon. I have had the pleasure of playing {Gallagher's Canyon} a number of times and it never fails to impress! Thank you again!"
Kevin J., organizer for the MB Classic golf tournament