Featured Offer
Holiday Events at Gallagher's Canyon
Book now!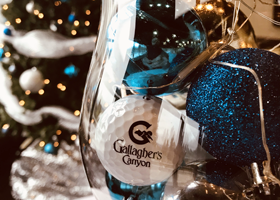 More Details
Meetings & Banquets at Gallagher's Canyon
Expect beauty and quality for your Kelowna Meeting and Banquet at Gallagher's Canyon
Beauty and quality are par for the course when you choose Gallagher's Canyon for your party, meeting or banquet. We offer event planning and consultation, professional bartenders and servers, and customized menus for every function. Our high standards are matched only by the rugged beauty surrounding our Clubhouse – acres of emerald fairways edged by Ponderosa Pines, orchards and the mountains beyond. Drink it all in from the Canyon Room, our centerpiece banquet room accommodating up to 150 guests, and be glad that you chose Gallagher's for your event.
Meeting & Banquet Information
Contact